Quality Certified Refurbished Devices
It's official! There is a Certificate for refurbished iPhone, iPad, and MacBook devices in the Netherlands. As Renewd, we're proud to announce that we're one of the few companies that received the certificate. Apple devices that are labeled with the certificate, are devices of premium quality. In collaboration with TUV, we played a major role in the development of the Certificate. The announcement of the Certificate makes the Netherlands the first country in the world with a regulated certificate for refurbished hardware.

Refurbished Warranty
A good warranty service is one of the the requirements of the Certificate. The battery and accessories delivered with(in) the devices are covered within the 24 months of warranty, which isn't even applicable for new iPhone devices. With our free Pick-up & Return service, we take a good warranty service to the next level.
Quality Control for the Certification
Our Apple devices are subject to the strictest quality control in the market. They are being tested by an Apple Premium Service Provider with Apple's official AST software. The software is inspecting the devices on 83 critical features and its repair history for optimal usability and authenticity. To receive the Refurbished Certificate, the devices should be tested on at least 50 critical points (hardware & software). The barrier of these 50 critical points is easily met by our Quality Control. Additionally, we're still the only one on the refurbished market that is using 100% original parts.
To receive the Certificate, a company has to pass several tests. TUV Nederland, an independent certification institute, performs the technical audits at the participating companies to guarantee the high levels of quality. However, the premium quality of the products isn't the only requirement for the Certificate. Certified Companies will have to meet certain financial requirements as well. These requirements are tested by another independent organisation (EDR Credit Services).


Official logo variations for Quality Certified Refurbished Devices
Sustainability
By giving electronic devices a second life, we're saving a lot of CO2 emissions, while using less scarce resources. Our used devices are of premium quality and years away from becoming  waste. With the arrival of the Certificate, we aim on convincing our (potential) customers to choose for the sustainable alternative in terms of hardware.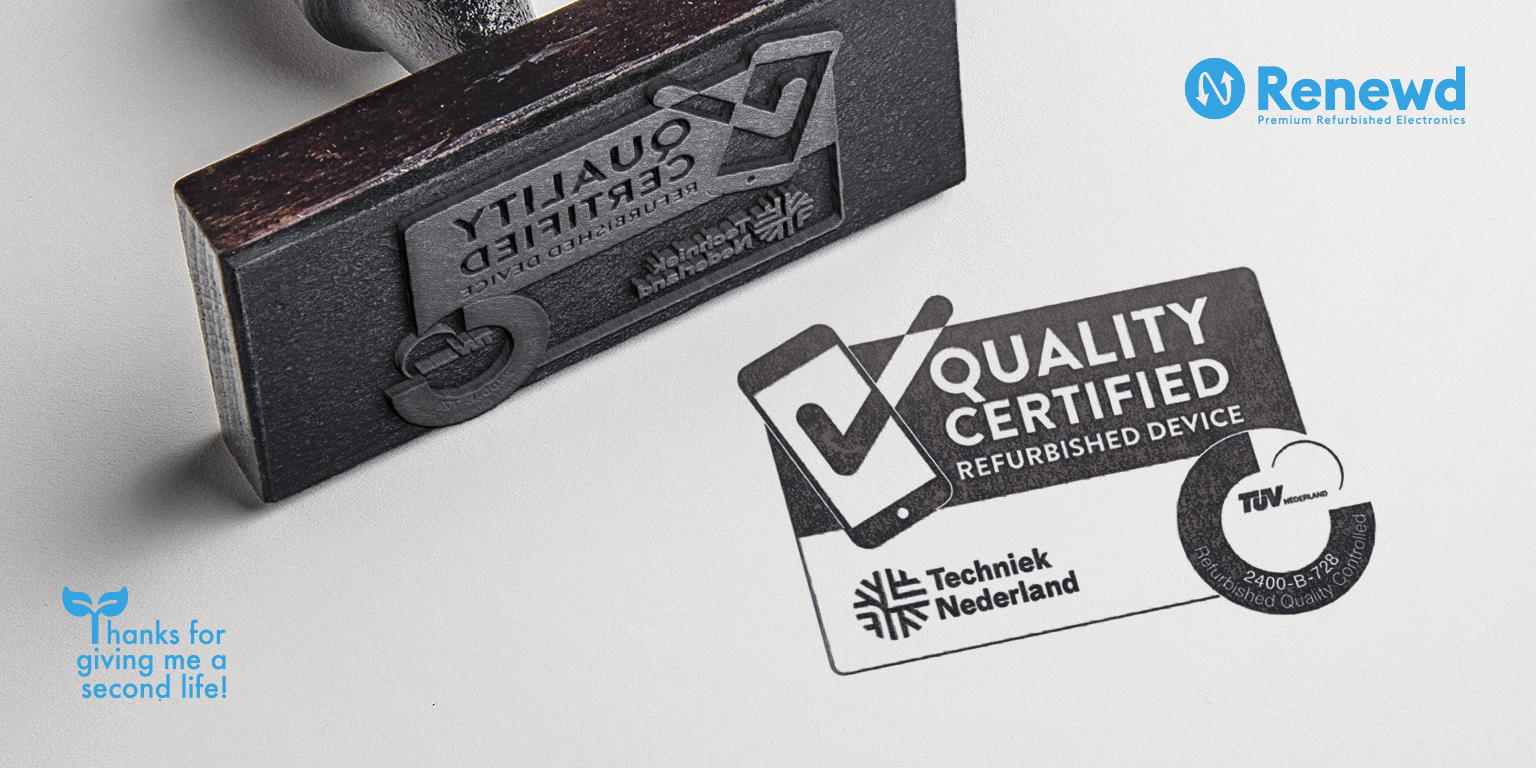 We're happy to say that our iPhone, iPad, and MacBook devices are labelled with the Refurbished Certificate. However, this is not enough for us. We take Quality and Service to the next level. According to the Certificate, our devices should be tested on at least 50 critical points. Our Quality Control makes sure that our devices are tested on 83 critical features. In the infographic below, we explain the benefits of choosing for Renewd, compared to other companies offering refurbished products.